Get Organized! presentations have engaged and enthralled audiences both locally and nationally.
Contact us to schedule a presentation for your next meeting or event.
We can create a presentation tailored to your needs or you can choose from one of many presentations we have on hand.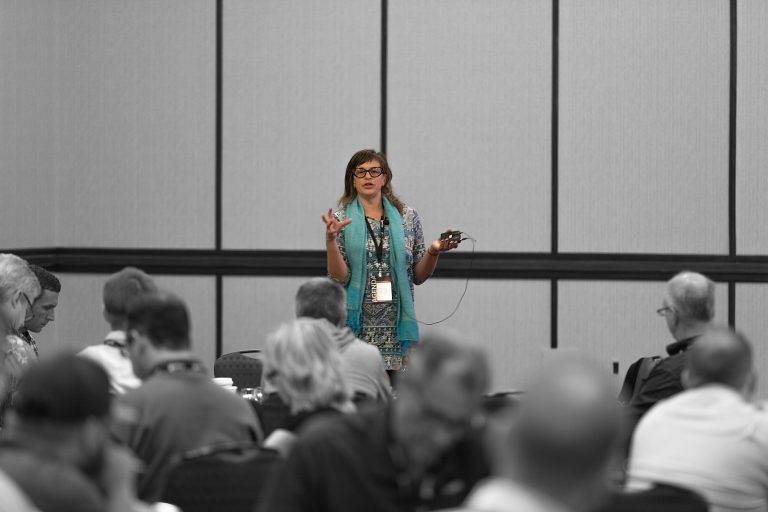 DIY Books: Bookkeeping for Micro Business Owners (June 21, 2023), Brass Jacks Event, Webinar.
Budgeting 101: Create a Budget for Your Business (May 24, 2023), Brass Jacks Event, Webinar.
5 Reasons You Can't Find a Good Bookkeeper…and what to do about it (May 17, 2023), Brass Jacks Event, Corvallis, OR.
Paid Leave Oregon (March 3, 2023), Gourmet HR Event, Webinar.
Ultimate Guide to Job Costing with QuickBooks Desktop & BusyBusy (August 31, 2022) BusyBusy Event, Webinar.
"Jackie can present complex information in a way that makes real sense. Her grasp of construction accounting, and its impact on the construction world, is second to none!"
Christi Fabela, Director of Client Success at BusyBusy
Budgets: How to Forecast, Track and Adapt (May 20, 2021) Master Builders Association of Seattle meeting, Seattle, WA.
"Jackie's delivery was very engaging and entertaining while also teaching a lot of important and detailed information."
Katrina Peterson, Events Manager
Profiting During the Pandemic Pause (April 2, 2020) Build-Aid- Help Remodelers Survive Now and Thrive After, Virtual Conference.
"It's awesome! Your video is great!!! A breathe of fresh air!! It was the best one I saw just because it was upbeat and everything is so crazy right now. I even stayed on for your after season."
Tanya R, Attendee
QuickBooks & Estimating (March 11, 2020) Central and North Jersey Chapters of NARI meeting, Newark, New Jersey.
"Jackie Shaw of GO! presented a lively and instructional seminar on Estimating and QuickBooks for the NARI Chapters in New Jersey. She offered honest information on the benefits and limits of the program. When appropriate she gave participants names of apps and other software that could be used in conjunction to provide the results desired by the NARI members. Jackie is an engaging speaker; her presentation was informative but entertaining."
Renée Rewiski, CJ/NJNARI
Fashion, Finance Feminism – Are Dress Codes Out of Date? (February 26, 2020) Women in Business, Corvallis, OR.
"I just wanted to say again that I loved your presentation yesterday. Very helpful and interesting, fun and funny! I especially appreciated the info about the Model Dress Code from Oregon's NOW chapter. Thank you!!"
Melissa, Attendee
Great Financials 101 to 310 (September 24, 2019)
Bonus Session training at Remodelers Advantage Round Tables, Orlando, FL.
Colors of Communication (March 16, 2019)
Ice breaker at Soroptimist Regional Meeting, Corvallis, OR