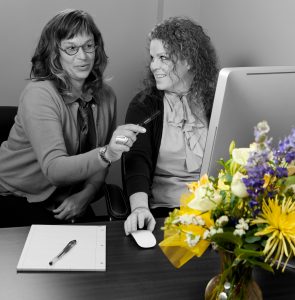 Would you like some one-on-one training specific to your company?
Jackie will provide mentoring in a fun atmosphere.
Jackie can help with QuickBooks set up, cleaning up old systems and  learning the day to day processes that lead to accurate financial reports and reading financial reports.
Whether you are an owner, manager or bookkeeper we can match trainings to your needs and work style.
"You are the only person in my world that explains things in a way I can actually understand."
Jackie teaches QuickBooks classes at the local community college LBCC in Albany, Oregon. Check out the events pages to see when the next classes starts.
Jackie is a nationally recognized public speaker and trainer. Check out some of the presentation topics. Contact GO! if you are interested in having Jackie do a group training or presentation for your company or community organization.
"I'd like to say a huge thank you for your knowledge, sharing, and patience. I took on this position six months ago with little Quickbooks experience, lots of administrative assisting experience but I was lost when it came to the accounting aspect of this job. I would have been so lost without you and your SOP's for every step of doing the books here at Sandifer Custom Homes. Your quick response to emails, texts, errors…have been life-saving to me. Thank you Jackie, without you and GetOrganized, don't know that I would have made it this far for this long."
"Jackie is a magician! She takes any QB problem or question I have (and sometimes, there are many) and gives me easily understandable answers and solutions. She knows how to resolve every tiny problem I come across – it is literally magic. I could not do what I do without her!"
"Jackie has been and will be my "go to" person for anything related to Quickbooks Pro. Although I have had some experience with Quickbooks, she is a incredible teacher who patiently went over every detail and nuance making sure I understood. When I fell behind in my year end process, she came to my rescue. This was for my LLC and personal accounts. She was available via phone, email, text and in person. Her expertise is impressive. She is the answer to what you need regarding QuickBooks."